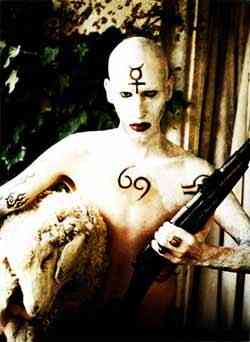 Biografía de Marilyn Manson
Brian Hugh Warner, más conocido como
Marilyn Manson
, nació el 5 de Enero de 1969 en Ohio, Estados Unidos.
Estudió en un colegio cristiano, pero pronto abandonó la religión, pues pensaba que tenía una postura hipócrita. Por ello se transfiere al colegio de secundaria GlenOak, y tras terminar la escuela se muda con su familia a Florida. Ahí estudia periodismo, y teatro en el instituto "Broward Community College".
En el año 1989
Marilyn Manson
se junta con el guitarrista Daisy Berkowitz y forman la banda "Marilyn Manson & The Spooky Kids". Años más tarde el grupo decide acortar el nombre a tan solo "
Marilyn Manson
". Esta banda de metal industrial toma el nombre de la fusión de los personajes Marilyn Monroe y el asesino en serio Charles Manson. Según propone la banda, el nombre refleja la dualidad entre el bien y el mal, entre el glamour y la brutalidad.
En 1990 graban su primera demo "The Raw Boned Psalms", que nunca salió a la venta. También, ese mismo año, producen otras tres grabaciones "The Beaver Meat Cleaver Beat" (en la que aparece por primera vez el tema "My Monkey"), "Big Black Bus" y "Grist-O-Line" (aquí aparece por primera vez el tema "Cake and Sodomy").
1991, trae consigo 2 demos más: "Lunchbox" y "After School Special". En este último aparecen canciones como "Lunchbox" y "Cyclops".
En 1992, producen The Family Jams, donde aparece el tema "Dope Hat"; y en 1993 salen a la luz "Untitled (Refrigerator)>", del que tal solo se distribuyeron 100 copias, y "Live As Hell - Radio Show '92".
En 1994 lanzan su album "
Portrait of an American Family
", que alcanzó grandes ventas, consiguiendo un disco de oro. Este disco contó con la producción del amigo de Marilyn, Trent Reznor, vocalista de la banda Nine Inch Nails, además de la colaboración de Chris Vrenna, batería de ésta misma. A partir de este momento la agrupación se convirte en un suceso y en un modelo a seguir por muchos jóvenes norteamericanos.
Un año más tarde, sale a la luz "
Smells Like Children
", un LP de temas y remixes de "Portrait of an American Family". Este material logró conseguir disco de platino.
En 1996, sale a la venta "
Antichrist Superstar
", que también obtiene un disco de platino. Meses más tarde aparece "Demos In My Lunchbox - Volumes 1 & 2".
1997 trae consigo el disco "
Remix and Repent
", un álbum que cuenta con grabaciones en vivo y remixes del disco "Antichrist Superstar".
Un año más tarde, sale al mercado "
Mechanical Animals
", obteniendo nuevamente un disco de platino.
En 1999 lanzan su primer disco grabado completamente en vivo: "
The Last Tour on Earth
". Este material incluye las presentaciones del tour "Rock Is Dead".
En el 2000 presentan su cuarta producción realizada en estudio, "
Holy Wood (In the Shadow of the Valley of Death)
", premiada con un disco de oro.
Tres años más tarde presentan su quinto álbum, que se denominó "
The Golden Age of Grotesque
".
En el 2004, aparece "
Lest We Forget
", un disco recopilatorio que logra venderse muy bien, y "
Lunch Boxes & Choklit Cows
", una recopilación de las canciones de los demos iniciales.
Un año más tarde Marilyn Manson publica "
The Nobodies: 2005 Against All Gods EP
", otra recopilación, esta vez de remixes del tour "
Against All Gods
".
En el 2007 "Eat Me, Drink Me" promete ser un nuevo hit de la agrupación.