Let It Bleed
The Rolling Stones
Estilo(s)
|
Blues Rock,Hard Rock
La puntuación está basada en 37 votos.
Reseña
"Let It Bleed" es el octavo álbum en la discografía de los Rolling Stones
. Lanzado el 5 de diciembre de 1969 por el sello Decca en Reino Unido, fue grabado en los estudios Olympic Studios de Londres y en los Elektra Studios y Sunset Sound de Los Ángeles, contando para ello con la producción del estadounidense Jimmy Miller.
Grabado en una época delicada para la banda, ya que uno de los fundadores de la banda,
Brian Jones, se encontraba prácticamente incapacitado por el abuso de las drogas
, tuvieron que buscarle un sustituto a mitad de grabación (
Mick Taylor
), tras despedirlo. Jones falleció un mes después de su despido, el 3 de julio de 1969, cuando tan solo contaba 27 años.
"Let It Bleed" está considerado como uno de los mejores trabajos de los Rolling Stones
y, además,
uno de los mejores álbumes de rock de la historia
, aportando varios de los temas del repertorio clásico de la banda británica.
Basado en el blues y en las raíces de la música estadounidense
, el álbum también tiene influencias del gospel, el country blues y el country rock, con letras perturbadoras, quizás influenciadas por la guerra de Vietnam que en aquella época impregnaba el ambiente.
La curiosa
imagen de la portada
muestra el brazo de un reproductor de discos de vinilo, apoyado sobre un disco de los Rolling Stones, insertado sobre un eje y sobre el que se incorporan una serie de elementos, como son una lata de las utilizadas en el cine para guardar las películas con una etiqueta que pone "
Stones - Let It Bleed
", una esfera de reloj, una pizza, un neumático de motocicleta y un pastel coronado por figuritas que representan a los miembros de la banda.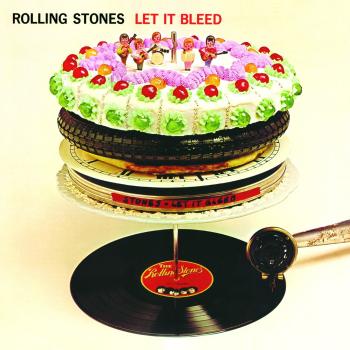 Considerado como
uno de los álbumes clásicos de los Rolling
, en este trabajo podemos escuchar por primera vez a
Keith Richars
como solista, en el tema "
You Got the Silver
".
Del álbum se extrajeron dos únicos sencillos, uno lanzado el 4 de julio de 1969, con los temas "
Honky Tonk Women
" y "
You Can't Always Get What You Want
" y un segundo sencillo publicado solamente en Japón en enero de 1975 y que incluía el tema que da título al álbum, "
Let It Bleed
", con un lado B que incorporaba la canción "
You Got the Silver
".
Listado de canciones del álbum Let It Bleed
3 Comentarios de los usuarios
JUANs: mejo su mejor albun de laq decada de los 70 a pesar de que fallecio brian jones y tomo jagger el liderazgo
: Muy bueno
la oreja: Otro disco excelente, de la época dorada de los rolling, de una creación musical excelsa,que los llevo a ser una banda de todos los tiempos, joyas Gimme Shelter, y You can't always get what you want.