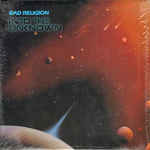 La puntuación está basada en 2 votos.
Listado de canciones
...You Give Up

Losing Generation

Million Days

The Dichotomy

Billy Gnosis" "Time and Disregard

Chasing the Wild Goose

It's Only Over When...

1 Comentarios de los usuarios
jon: Cojonudo, el unico album completo que me gusta de Bad religion, lo que demuestra que no soy un gran fan precisamente de la banda. Y eso que me gusta el hardcore, pero este album extrañísimo tiene algo que me atrapa, creo que son esos teclados setenteros de Greg Graffin....