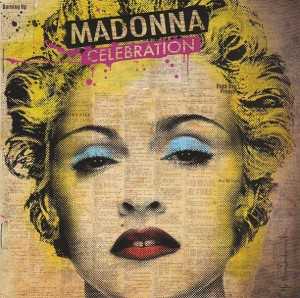 La puntuación está basada en 9 votos.
"Celebration" es el tercer álbum de grandes éxitos de la diva del pop Madonna, tras The Immaculate Collection y GHV2 y el último publicado con Warner Bros. Records. Esta recopilación contiene 36 temas, las canciones de más éxito de Madonna a lo largo de su dilatada carrera musical. Además, como premio a sus millones de fans, contiene dos temas inéditos: "Celebration" y "Revolver".

El tema "Celebration" fue producida por Paul Oakenfold y Madonna y fue grabado en Nueva York, convirtiéndose en el primer sencillo que se extrajo del disco. El video de este mismo tema fue dirigido por Jonas Akerlund, el mismo de Ray Of Light, y fue grabado en Italia y España.
Disco 1
Disco 2
25 Comentarios de los usuarios
moises: esta muy padre
madonithaa la mmejor: esta muy buenoelcd madonna es la mejor es mejor que lady caca munca lady caca va hacer la reina del pop por que ese púesto lo gano madonna
Drakko_7: Claro q nunca travesti caca sera como ni mayor q "MADONNA" MADONNA INOVO REALMENTE caca solo copia la formula "MADONNA" es por eso q tiene exito
manuel: mira lady gaga tambien es muy buena en la musica y en el pop ay sitio para ambas
Francisco Javier: Como se les ocurre comparar a Madonna con Gaga. Por Dios una es una estrella y la otra el firmamento!!!!!
o0o: Es como querer comparar a britney spears con christina aguilera o sea nunca compares a nadie, si MADONNA es llamada y reconocida mundialmente la reina del POP es por que le ha costado subir esos peldaños de una larga trayectoria...SIMPLEMENTE MADONNA SEGUIRA SIENDO MADONNA PESE A QUIEN LE PESE
: es muy bueno no solo bueno buenisimo par los seguidores de madonna es una estrella completa, cantante, compositora,escritora y actriz y lady gaga solo es lady gaga no hay punto de comparacion
: el disco esta buenisimo.me encanta
lionel: el disco muy bueno se ve y enfoca y los vende el estilo que buscamos escuchar
jgk: madonna es mejor que lady gaga y vengan y le quieran dar el pusto de la reina del pop a lady gaga algo que ya tiene dueña osea madonna que es 10000000000000000000000000000000000000 de vaces que lady gaga, ojo que no entraron mas ceros!
jorgvv: YO soy fanatico de MAdonna hace 13 años me fascina , pero tambien Lady Gaga es muy buena artista incluso ahora disfruto mucho su musica , ambas son las mejores artistas , claro madonna es la reina
jolie: para mi la mejor de todo el mundo ella si es la reina del pop y lo seguira siendo
laviejajusticiera: ladi gaga no canta en la realidad sino que es doblada por madonna.
: MADONNA Y BRITNEY SPEARS SON LAS VERDADERAS REINAS DE LA MÚSICA! NO GAGA! ELLA ES NADA SOLO ESO ELLAS DOS SON MEJORES QUE GAGA SIN DUDA :)!
: DISCO RECO8PILATORIO,SIN MAS.
Madonnasuperestar: wowow amo ese Cd Kqe Viiva La reinna Madonna
Chic: Si mencionais a Gaga tanto aquí, es porque sabeis que tiene posibilidades de quitarle el puesto... no seais cutres...
Psychstar: Gran bola de pendejos, deben de mostrar solido respeto por Madonna, ella no es una estrella, ni firmamento, es una DIOSA ok, no habra nadie quien le iguale.... mientras ella siga viva ok
turmusic: es la mejor una señora una gran artista y bailarina gran seductora todas las canciones estan buenisimas hacen bailar a mucha gente de todas las edades
sckynet: ahh muy cool ehh!!u_U n________________n
el fer: la neta me gusta mucho madonna, pero Lady gaga ke voz y ke talento la vdd...
p89xwm: ESTE DISCO TIENE UIN PARTICULARIDAD , MADONNA DEJO QUE SUS FANS VOTARAN POR CUALES CANCIONES QUISIERAN QUE ESTUVIERAN EN EL RECOPILATORIO, Y ESTAS SON LAS GANADORAS, ADEMAS QUE LA CANCION CELEBRATION , ESTA DE LUJO, Y EL VIDEO DEMASIADO BUENA , ESE LOOK QUE TIENE SE VE MUY SEXI, ELLA ES FAMOSA Y RESALTA SIN NECESIDAD DE EXCESOS COMO LADY GAGA,
julian: El mejor dicoes este... The best CD it is
xtreme: madonna es madonna jamas nadie le quitara el trono
javier: exelente