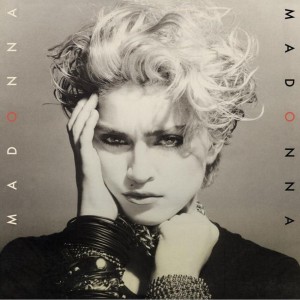 La puntuación está basada en 236 votos.
El primer álbum de Madonna aparece publicado en 1983 por la compañía Sire Records y su debut obtuvo un éxito más que aceptable para una artista aún desconocida, llegando a ocupar el octavo puesto en la lista Billboard 200 en Estados Unidos.

De este álbum se extrajeron cinco sencillos, Everybody, Burning Up, Holiday, Lucky Star y Borderline y para promocionarlo Madonna se embarcó en su primera gira, bajo el título The Virgin Tour.

"Madonna" fue grabado principalmente en Nueva York y la artista contó con la colaboración del productor de la Warner Bros Reggie Lucas. No obstante, desavenencias entre ellos por el enfoque que el productor estaba realizando sobre algunos de los temas decidió a Madonna a cambiar de productor y sustituir a Lucas por John "Jellybean" Benitez para terminar de remezclar los temas. Fue precisamente este último el que rescató el tema Holiday, que había quedado descartado en la anterior selección de temas.

El resultado final fue un álbum de estilo pop muy bailable, con temas muy discotequeros que empiezan con la canción Lucky Star y que utilizan elementos tecnológicos punteros en la época. Las letras de las canciones hablan sobre el amor y las relaciones de pareja.

Para la crítica, este primer álbum de Madonna supone la fijación de los estándares de lo que sería la música dance-pop a partir de entonces, de la que Madonna ha sido la gran reina.
Listado de canciones
54 Comentarios de los usuarios
hernan: excelentes temas
leo: lo unico bueno de este disco es la portada del album, y la cancion holiday,,,, pinche madonna que mala!
Fan Madonna: Pues yo creo k este disco no es de los mejores pero tiene muchos clasicos de toda su carrera musical.
ilovemadge: TE AMO TE AMO
ricardo: madonna se lucio con su primer album
nuria: me encanta madonna,eres mi idolo,siempre madonna
Roberto: Toda una Señora de la musica, nos trae tantos recuerdos 80's 90's
AMNESIAC_KID: ME ATREVO A DECIR QUE DE LOS CLÁSICOS DE MADONNA ESTE ES EL MEJOR!! TIENE LAS MEJORES ROLAS Y LA MÙSICA ES GENIAL
Alex: Estupendo el album, cada cancion pudo ser lanzada como sencillo , cada cancion es genial a su modo y tiene lo suyo, especialmente think of me esta muy underrated.
eiffel: estas canciones de madonna son geniales !
ito: es una diosa
juan: esto esta chido y Ella tiene lo suyo
Ivor: UNO DE LOS MEJORES DISCOS DE MADONNA SIN DUDAS FUE ESTE! EXELENTE!!! :)
loren: me facina madona la unica cuantas quisieran emitarla es sencillamente ESPECTACULAR LA AMOOOOOOOOOOOOO
Rhaymond: Madonna te amo. Y este primer cd no se como lo podre conseguir, pero ojalá lo pueda tener algun día. Soy tu fan incondicional. Apenas tengo 23 años y naci 7 años después de este cd y apenas te escuche por primera vez te ame y cada dia q pasa me gustas mas!!
: i love you madonna porque eres la mejor tus canciones son unicos siempre you love
Madonno: Este álbum es divino. <3
: madonna amo todas tus canciones sos unica!!
manuel: TE AMO ERES UNIC EN EL MUNDO TODOS A QUI DICEN Q ESTOY LOCO PERO SUEÑO CON CONOCERTE TE AMO ERES UNA GRAN MUJER
Elair: Me encantan sus canciones perla verdad BORDELINE (Limite), Lucky star y Holiday(Dias festivos) no tienen rival en este album de 1983.Gracias Madonna por hacernos vibrar con tu música la mejor de mi generación...
kike: el unico peruano fiel a madonna y su musica
Humberto: Madonna, que recuerdos con estos temas, excelentes los primeros albumes, este tema Borderline, es muy bueno y se bailo bastante en las discos, grande Madonna te amare siempre.....
alonso: me encanta todos sus temas...te amo madonna
hector: todos sus disco son genialess..
madoenlacama: este disco esta buebisimo porq trae los exitos que hasta hoy suenan en los antros te amo madonna
sergio: yo no entiendo porque hay gente de mierda que comenta tonterias sin no te gusta madonna simplemente no se tomen la molestia de comentar LARGA VIDA A LA REINAAA....
fonchis: este un disco no muy atractivo pero kieroo imaginarme q en su momento fue estupendo pues madonna siempre se acopla a la epocaa
: eres mi idola por siempre
: todas las canciones son de mi idola
anonimo: muy bueno
: es increible este su primer disco... el mejor
vanessa madonnamania: me encanta madonna,todos sus discos son maravillosos,es la mejor!
luis: super es lo mejor
jam: ella es como los vinos ... cada disco q saca se pone mejor larga vida a la unica queen of pop
: ESTE FUE SU DISCO MAS DANCE, POR ESO CUANDO HIZO LA ROLA HUNG UP , QUIZO VOLVER A SUS RAICES DANCE, SI SE FIJAN CADA SENCILLO TIENE MAS DE 7 MINUTOS DE DURACION Y SOLO SON 8 ROLAS, ALGO ASI COMO LO QUE HACE BLACK EYES PEAS HOY EN DIA
: Madonna es la mejor!!!!
: eres la mama de todas las novatas
manuel: me encanta este album
MADONNO CHILENO: LOS QUE HABLAN MAL DE MADONNA ES DE PURO PICADOS Y ENVIOSOS
juan j: excelente. ME ENCANTA
Irv.1245: Me parece un buen Cd aunque francamente despues de Holiday y Boderline todas las demas canciones me suenan igual jajaja !!! pero eso quita que es un buen cd para hacer aerobics jOjo <3
Mario: Sin dudas the first album is the best,sus canciones son pegadisas, amo esto!!!
Alfredo: Me encanta este albun es excelente, eres la mejor desde la primera ves que te escuche con beautiful stranger no eh parado de hacerlo.
maky: en poks palabras es lo maximo
edgar: la reina del pop!!!
: Madonna es aparte de ser una gran artista, es una gran mujer. Todos sus exitos son un rotundo exito!!! Dios la cuide y la proteja siempre.
Anónimo: tengo el vinilo de este disco en muy buenas condiciones. en stgo, chile. acepto ofertas.
Ceci: El disco es bueno,principalmente porque es el primero de ella.Ya demostraba que iba a ser una de las mejores artistas de todos los tiempos.
sebastian : madona es genial aunque lady gaga y brinespirrs le tratan de copiar lo que la llebo a serfamosa
PAULA: SI ES LA REINA SILISTA Y TANTOS CD A LOLARGO DE LAS GENERACIONES COMO PUDO IR ADAPTANDO SU ESTILO Y PERSONALIDAD A LOS CAMBIOS DE LA MUSICA A LO LARGO DE LOS TIEMPOS
anonimo: k feo album
MAURICIO : EXELENTE DE PRINCIPIO A FIN. TE AMO MADONNA.
wil: es muy profesional y muy buenas rolas
MARIO: CONOCI A MADONNA EN UN CANAL LOCAL DE MI CIUDAD Y AHI PASABAN MUCHO SUS VIDEOS DE BORDERLINE (CON LA CUAL LA AMO HASTA EL DIA DE HOY) Y LUCKY STAR. HASTA EL DIA DE HOY SON FAN DE MADONNA. Y AMO TODOS SUS DISCOS.