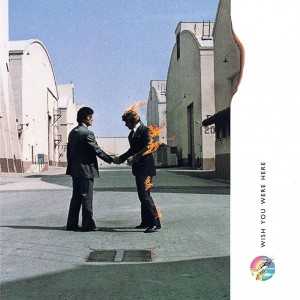 La puntuación está basada en 127 votos.
Listado de canciones
25 Comentarios de los usuarios
Lea: Increible!
Rudeboy: pffff son piesas q a este mundo no le pueden faltar
: Olga este disco me gusta mucho, es alucinante.
the ninja: Una obra de arte de la historia de la música. Nadie podrá nunca crear lo que crea PINK FLOYD.
fran: definitibamente estos sujetos son de otra galaxia
: No puede faltar en la biblioteca discográfica de ningun musico y/o persona natural
coschk: magico! el sonido te transporta, pink floy!! inigualable.
fabi: es un disco para deleitarse sin darse cuenta como pasa el tiempo.discaso
lobo: lo mejor de lo mejor ahuhi
Luismari: La foto de la postal que habia en el interior de donde era
JJ Tudela: Con este disco a mis 17 años oí por primera vez a Pink Floyd. Me gustó tanto que recuperé discos anteriores seguí tambien a Syd Barret y a Pink Floy hasta el disco "El muro" que ya me enpezó a desencantar un poco. Comentario de fecha 20-09-2011
coetonano: grande grande grande historia viva de la musica recuerdos inolvidables.
juan: considero que este disco esta a la altura de dark side......pero ser el siguiente disco despues del gran disco de la banda,cuesta
javier: indiscutiblemente este es uno de los mejores!!
14 miki3: el que no haya escuchado este disco que lo haga. si no le pone el vello de punta es porque no sabe apreciar la musica de calidad. a mi me trae muchos recuerdos.
lalo: Me gusta mucho más que Dark Side of the Moon. Lo que más me intriga es la portada. Al igual que Animals y The Wall no deberían de faltar en la discoteca de quién realmente admire al grupo. Bueno, en general toda su discografía. ¡Ojalá estuvieran todavía aquí!
KINITO-Malagon: QUE PUEDO DECIR DEL DISCO QUE ESCUCHABA EN MIS PRIMERAS RELACIONES GAYS.
pepe: segun los pink floyd,este es el mejor disco que han hecho..y no les falta razon´aunque es todo muy subjetivo.la verdad es que es de lo mejorcito que he oido,esta´muy bien elaborado.
jcarlos: Shine on you crazy diamond.....whish you were here.......ke buenas piezas d vrdad estos hombres no tienen limites.....
aurora: para mi junto whish you were here y crazy diamond las canciones que marcan mi vida.me siento parte de ella desde el primer dia que las oi,
lola: Este disco me trnsporta a mi adolescencia. No puedo imaginar esa etapa de mi vida sin la música de Pink Floid.
nezh: en lo personal este me encanta este álbum a que viajes
brian: para mi este disco el mi faborito!!! :) aunque no entiendo la tapa ni tampoco entiendo ninguna de los discos salvo "the wall" tapas inentendibles pero temas inigualables :)
: Es la mejor banda del rock sinfonico o progresivo de todos los tiempos.The dark side of the moon,y este Wish you were here son dos obras maestras para la historia de la musica
jonathan Aray: simplemente maginifico, todo lo que hace pink floy es magico de en espacio sideral...division bell tambien es muy bueno.