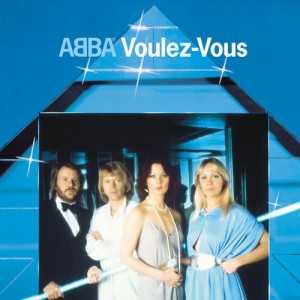 Álbum: Voulez-Vous
1979
|

Estilo(s)
|
Pop Rock,Disco
La puntuación está basada en 50 votos.
Reseña
sexto álbum de estudio de ABBA
es el titulado "
Voulez-Vous
", lanzado el 23 de abril de 1979 y que supuso la irrupción del grupo en la música disco, incluyendo temas como "
Chiquitita
", "
Does Your Mother Know
" y "I
Have a Dream
".
El álbum encabezó las principales listas en varios países y se convirtió en
uno de los cinco álbumes más vendidos en el Reino Unido en ese año
. Fue el primero del grupo grabado en Polar Studios de Estocolmo, el estudio de grabación creado por ABBA y que incorporaba las más modernas tecnologías.
Tras su anterior lanzamiento, la banda se encerró en el estudio para componer nuevos temas. Tras unas primeras grabaciones decepcionantes y que terminaron descartándose, en septiembre de 1978 lanzaron un sencillo titulado "
Summer Night City
", un estrepitoso fracaso que no alcanzó ni a entrar en las listas.
Inmersos en una etapa de vacas flacas en el aspecto creativo,
las tensiones no tardaron en aparecer en el cuarteto
. A finales de 1978, el
matrimonio entre Ulvaeus y Faltskog saltó por los aires
, saliendo a la luz su intención de divorciarse. Esta separación, liberó parte de las tensiones en el seno del grupo, despertando nuevamente la inspiración en las sesiones de trabajo.
Como resultado, Benny Andersson y Björn Ulvaeus terminaron dos temas nuevos, "
Angeleyes
" y "
If It Wasn't for the Nights
", el primer tema con el que
se acercaban a la música disco
de moda en la época y que en un principio
iba a ser el tema principal del nuevo álbum de ABBA
. Sin embargo, cuando rumiaban la promoción del sencillo, apareció una nueva composición, una
canción titulada "Chiquitita"
, que fue considera por Anderson como
la mejor que habían creado hasta entonces
, a pesar de que no cuadraba con el estilo del resto de temas que manejaban en el estudio.
Lanzada el 16 de enero de 1979 como
primer sencillo del álbum "Voulez-Vous"
, interpretada en inglés por la voz de Agnetha Fältskog, pronto se convirtió en un tremendo éxito en todo el mundo. El grupo interpretó el tema en un acto benéfico en favor de UNICEF retransmitido para todo el mundo desde la Asamblea General de las Naciones Unidas, con motivo de la celebración del Año Internacional del Niño. ABBA contribuyó a la causa donando a UNICEF la mitad de los derechos de la canción.
"
Chiquitita
"
alcanzó el primer puesto en las listas
de países como España, Bélgica, Irlanda, Finlandia, Irlanda, Países Bajos y México, entre otros muchos y llegó al segundo puesto en Reino Unido, Suecia o Alemania. La versión en español de la canción ayudó a popularizar aún más este tema en los países de habla hispana.
La
canción "Voulez-Vous"
se lanzó como segundo sencillo en julio de 1979. Escrita y compuesta por Benny Andersson y Björn Ulvaeus e interpretada a dúo por Agnetha Fältskog y Anni-Frid Lyngstad, surgió tras un viaje a Bahamas. Grabada en los estudios Criteria Studios de Miami, es el
único tema de ABBA que se grabó fuera de Suecia
.
El
Listado de canciones del álbum Voulez-Vous
9 Comentarios de los usuarios
marcela: este disco tenia las letras de las canciones escritas y yo las cantaba cuando era chica, calculo 10 u 11 años...me da mucha nostalgia
: Gratos recuerdos
diego: otro disco para bailar y bailar, mas alla de las baladas: estoy soñando" y chiquitita, otro gran disco del grupo
carlos: bonitos recuerdos siempre abba
MILAGROS: BUENAS CANCIONES DE ABBA, HERMOSOS RECUERDOS
martin garatuza: esta musica es un deleite para escuchar y recordar ha quellos tiempos de nostalgia que tiempos
mundy manuel: Abba esta y estará en el corazón de todos
Edguar: ABBA el mejor grupo .... que gratos recuerdo con su musica
Edith: Simplemente los mejores!!